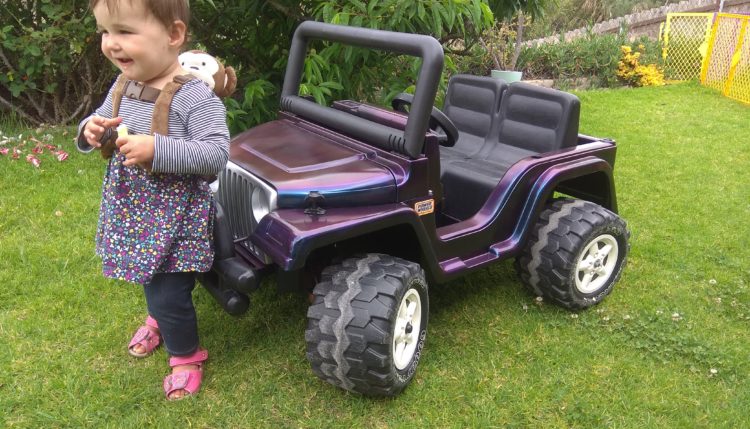 RC Power wheels, part 2 (painting)
With the electronics completed (see part 1), I took the whole thing apart and repainted it. The prep, painting, and re-construction was actually pretty easy, took me a couple hours on a Saturday afternoon and a couple hours on a Sunday. I started out by pulling out every screw I could find, then bagged the wheels to protect them, cleaned everything, and then painted (didn't bother to sand or prime the plastic). I also tried painting the grill with a chrome color, which came out looking nice but unfortunately not as metallic as I was hoping. For the painting area, I just cleared out an area in my garage, then draped it off with plastic wrapping (about $15-$20 from the hardware store).
For the final color, I chose to go with a color-changing purple. It's way too awesome for anything I would ever put on my own vehicles, so I can live vicariously through my kids. I got two cans of it at the local Auto Zone for about $15 each (could have done with one), and also got two cans of matte black (definitely need both of those) and a can of clear-coat. For the color changing to work, you have to lay down a thick, black coat underneath, before putting the color changing paint on. Once the base coat was dry, I threw on the color-changing, and then once that was more or less dry, I put a clear-coat on over top (why not?). Reassamble, and viola!
For a little flair, I got an LED light kit from Amazon for $20, wired that into the main circuit with a separate on-off switch, and put some underlights. Beauty.